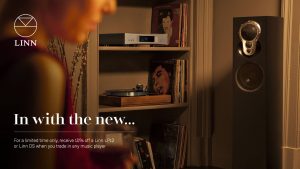 Pour un temps limité, apportez votre vieux lecteur de disque compact, haut-parleur Bluetooth, dock iPod ou syntonisateur FM et recevez une réduction supplémentaire de 10%, gracieuseté de Linn Products, sur les lecteurs réseau Sneaky DS ou DSM, Majik DS ou DSM, Akurate DS ou DSM.
Cette offre prend fin le 15 Février, 2017.
Trade In, Trade Up to Linn DS. It couldn't be easier. Linn is offering 10% off any Sneaky DS or Sneaky DSM, Majik DS or Majik DSM  or Akurate DS or Akurate DSM when customers trade in anything they currently listen to music on, whether that's an old CD player, Bluetooth speaker, iPod dock, or DAB radio.
The offer runs from 4th January 2017 until 15th February 2017.