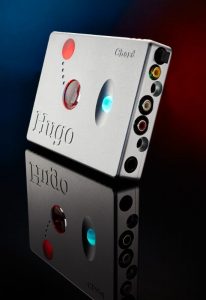 Le Chord Hugo est un convertisseur numérique/analogique portatif de haut niveau, compatible avec les fichiers audio PCM jusqu'à 32 bits/384 kHz ainsi que les fichiers DSD64 et DSD128. Il est équipé d'un amplificateur de casques, d'un préamplificateur et d'un contrôleur Bluetooth apt-X. De plus, le Hugo est pourvu de deux piles rechargeable offrant plus de 12 heures d'autonomie et l'avantage d'une source de courant stable et sans pollution.
Contrairement à la majorité des DAC audio du marché, le Hugo n'est pas équipé d'un convertisseur numérique/analogique acheté auprès d'un fabricant tiers (Burr Brown, ESS Sabre, Wolfson, etc.), mais intègre plutôt un puissant circuit de conversion propriétaire développé par Chord. Il s'agit d'une conception qui emploie un processeur XIlinx Spartan 6 de type Field Programmable Gate Array Spartan. Le Hugo se présente sous forme d'un boitier compact en aluminium de qualité aéronautique doté de deux entrées mini-USB, une entrée Toslink, une entrée numérique coaxiale ainsi que deux sorties casque jack 3.5mm, une sortie casque jack 6,35mm et une paire de sortie analogique sur RCA. À cela s'ajoute deux petits boutons poussoirs pour la sélection de source et le filtre Crossfeed. Sur le dessus de l'appareil se trouve un système d'éclairage par diodes de couleurs pour indiquer la fréquence d'échantillonnage du fichier audio en cours de lecture mais également la source active et le niveau de charge de la pile. La molette de contrôle du volume, également sur le dessus de l'appareil, change également de couleur en fonction du niveau sonore. Prix suggéré : $2895
The Chord Hugo is nothing less than a stunning achievement – a multi-talented device that will transform your music listening so much you'll wonder what you ever did without it. " — What Hi-Fi magazine.

The DAC section of the Hugo, however, is just mind-blowingly good. How good is it? I'm still conducting listening tests, but let's just say that prior to writing this blog, I was listening to the Hugo in DAC-configuration and discovered that it could give the terrific AURALiC VEGA digital audio processor a pretty convincing run for its money. That is simply astounding performance in light of the Hugo's size and price." — Hi-Fi + Blog.

It possesses that elusive 'X' factor, which marks the difference between very good products and truly special ones that touch on greatness." — Hi-Fi+

The Hugo is another giant leap for digital kind. I implore you to have a listen." — HiFi Choice

Hugo is a tour-de-force of engineering and delivers fabulous sound quality." — Hi-Fi World

If you want the best, this is it." — T3 magazine.

If you can afford a Chord Electronics Hugo, purchase one. Now!" — Enjoy The Music.com.