I am confident in saying that it has few – if any – peers in the network server field, which means that it is one of if not the best digital source you can buy today. — Hi-Fi + Magazine

In this and all other respects this Innuos is a genuine state of the art component, put it on your 'must hear' bucket list straight away. — The Ear Magazine
Le serveur de musique Statement de la firme portugaise InnuOS a été conçu pour amener l'audio numérique à un niveau de performance encore jamais atteint. Basé sur le Zenith SE, le Statement dispose d'une nouvelle architecture d'alimentation électrique linéaire et plusieurs améliorations du circuit numérique ainsi qu'une resynchronisation plus précise des horloges USB OCXO et Ethernet. Les divers étages d'alimentation sont des plus soignés et répartis dans deux boitiers indépendants. Ce genre d'alimentation s'avère plus efficace que les types conventionnelles et permet aux étages critiques du serveur d'avoir leur propre alimentation hautement régulée.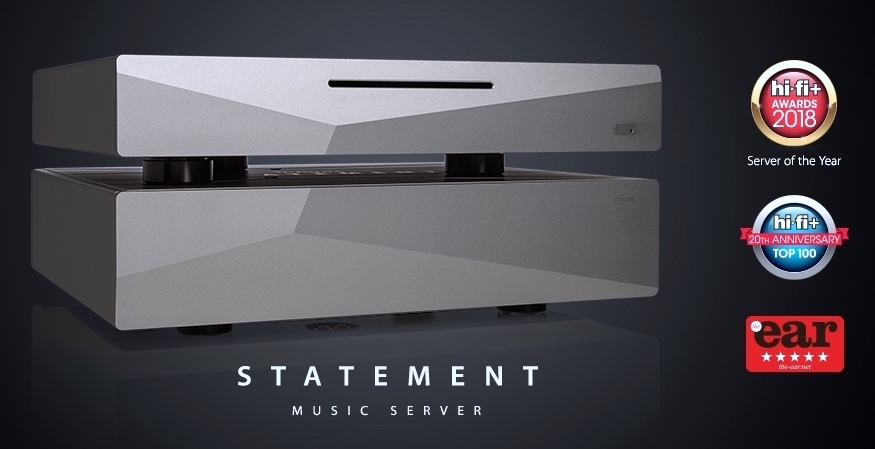 Innuos a créé une nouvelle carte mère sur mesure, entièrement optimisée. Une attention particulière a été portée sur l'élimination des composants générateurs de bruit capables de compromettre l'intégrité du data numérique. Cette carte dispose aussi de trajets extrêmement courts afin d'éviter la contamination croisée entre composants.
Le Statement intègre un rippeur de CD de haute qualité et stocke les fichiers en FLAC (compression 0) ou WAV sur son disque SSD de 1, 2 ou 4 To. Les services de streaming pris en charge sont Spotify, TIDAL et Qobuz, ainsi que la radio Internet. Il est également compatible avec Roon.
Le Statement est logé dans un boîtier en aluminium usiné de 10 mm d'épaisseur et disponible en fini argent ou noir. Le boîtier métallique épais permet une dissipation de chaleur efficace, d'isoler les interférences électromagnétiques externes et son poids aide à amortir les vibrations nocives dans le système. Le Innuios Statement est source de pointe digne des audiophiles les plus exigeants.