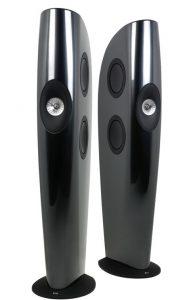 Après le succès phénoménale de la Blade, c'est maitenant au tour de la Blade Two. Récipient du "Product of the Year" dans plusieurs magazines de la presse spécialisée à travers le monde, Blade Two reprend toutes les prouesses acoustiques des Blade ainsi que leur design icônique dans une dimension légèrement plus petite. Bien sûr, on retrouve le principe de la source unique apparente. Celle‑ci permet de caler en un seul point d'émission sonore les centres acoustiques des haut‑parleur de graves, de médiums et d'aigus pour produire une imagerie sonore qui semble émaner d'un seul point dans l'espace. Aussi, ce principe rend impossible la perception du passage des fréquences d'un composant a l'autre. Blade Two est plus facile à intégrer dans des environnements où l'espace est plus restreint et où les extensions extrêmes de basses sont superflues. Blade Two. Même ADN. Même esthétique étonnante. Même technologie sophistiquée et configuration révolutionnaire de source unique apparente. Et par-dessus tout, le même son époustouflant, remarquablement réaliste.
Disponible immédiatement en finition standard (Piano, noir, Blanc, Rouge Racing, Gris métallique, Argent métallisé) ou en finition Kef Edition (Frosted Blue pour bleu glacier et Frosted Copper Black).
Prix suggéré : $29,000.

"Product of the Year 2015" — Stereophile.