La cellule AT-ART1000 est la nouvelle cellule phono vedette d'Audio-Technica, fabriquée à la main auJapon. Née de la recherche de l'excellence audio d'A-T depuis plus de 50 ans, la cellule AT-ART1000 introduit un design innovant, tout à fait inédit dans l'histoire des cellules fabriquées en série. Le système de transmission directe de la cellule place la double bobine mobile directement au-dessus de la pointe de lecture, afin que la qualité audio ne souffre pas des effets négatifs généralement entraînés par la longueur et le type de matériau du cantilever. Le fait que les bobines bougent si près de la pointe de lecture permet à la cellule de parfaitement rendre les détails sonores les plus subtils et de fournir une réponse transitoire inégalée.
L'AT-ART1000 est dotée d'une pointe de lecture à contact linéaire et un cantilever en bore solide hautes performances, permettant à la cellule de lire le sillon du disque avec fidélité et de transférer de manière fiable le signal aux bobines. La base qui soutient le circuit magnétique spécial et le système anti-vibratoire sont fabriqués en titane. Cette base robuste est importante, car elle offre une lecture cohérente et disperse les résonances affectant la qualité sonore.
Prix d'introduction: $6499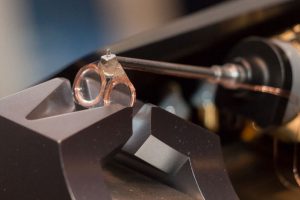 The AT-ART1000 is Audio-Technica's new flagship phono cartridge, handmade in Japan. Born of the pursuit of audio excellence that has driven A-T for more than 50 years, the AT-ART1000 introduces an innovative, audiophile design heretofore unseen in mass-produced cartridges. The cartridge's direct power system places the dual moving coil directly on top of the stylus tip, ensuring that the audio quality does not suffer the negative effects normally introduced by the cantilever's length and material type. Having the coils move in such close proximity to the stylus tip allows the cartridge to vividly render even the most subtle sonic details and provide unsurpassed transient response. 
The AT-ART1000 features a high-performance line contact stylus and solid boron cantilever, enabling the cartridge to faithfully trace the record groove and reliably transfer the signal to the coils. The base that supports the specialized magnetic circuit and vibration system is made from titanium. This sturdy base is instrumental in providing consistent playback, and to disperse resonance that negatively affects the sound quality.
Launch price: $6499